AAI JE ATC Company Details
Name of organization : Airports Authority of India (AAI)
Type : Public Sector Enterprise
Website : http://www.aai.aero
AAI ATC Recruitment 2023: Overview
| | |
| --- | --- |
| Recruiting Body | Airport Authority of India (AAI) |
| Post | Junior Executive (Air Traffic Control) |
| Official Website | https://www.aai.aero/ |
| Number of Vacancies | 356 |
| Notification Release Date | 9 December, 2022 |
| Application Start Date | 22 December, 2022 |
| Last Date to Apply | 21 January, 2023 |
| Admit Card Release Date | To be Notified |
| Online Exam Date | To be Notified |
| Result Date | To be Notified |
AAI JE ATC Selection Criteria
| | |
| --- | --- |
|  Written Marks |  120 Marks |
|  Interview Marks |  30 Marks |
|  Total Marks |  150 Marks |
AAI JE ATC Cut-off Marks – 2022
Wait …
AAI JE ATC Cut-off Marks – 2021
Written Cut-off Marks (Date Of Examination – 25th March 2021)
General
93.00
EWS
89.763
OBC
89.881
SC
85.077
ST
82.83
Final Result After DV & Voice Test
General
95.645
EWS
91
OBC
92
SC
86.789
ST
84
AAI JE ATC Cut-off Marks – 2018
Written Cut-off Marks (Date Of Examination – 30th November 2018)
General
87.00
OBC
83.00
SC
78.769
ST
75.394
Final Result After DV & Voice Test
General
90.019
OBC
86.644
SC
81.019
ST
77.644
AAI Written Cut-off Marks – 2018
| | | | | |
| --- | --- | --- | --- | --- |
| Post Name | Gen | OBC | SC | ST |
| Junior Executive (ATC) | 87 | 83 | 78.769 | 75.394 |
| Junior Executive(Technical) | 96 | 94 | 87 | – |
| Junior Executive(Fire Service) | 75 | 72 | 72 | 70 |
| Junior Executive(Commercial) | 82 | 79 | 79 | 76 |
| Junior Executive (Corporate Planning & Management Services) | 92 | – | – | – |
| Junior Executive (Airport Operations) | 94 | 90 | 85 | 82 |
| Junior Executive(Information Technology) | 87 | 81 | 80 | 71 |
Written Cut-off Marks – AAI JE EC
July/2012 
| | | | | |
| --- | --- | --- | --- | --- |
| Category → | General | OBC | SC | ST |
| Last Qualified Candidate Marks → | 61 | 56 | 54 | 51 |
April/2015
| | | | | |
| --- | --- | --- | --- | --- |
| Category | First Qualified Candidate | Last Qualified Candidate | First Qualified Candidate | Last Qualified Candidate |
| | Written Marks | Written Marks | Final Marks | Final Marks |
| Unreserved/General | 101 | 83 | 123 | 107 |
| Other Backward Class | 95 | 79 | 119 | 103 |
| Scheduled Caste | 87 | 74 | 105 | 97 |
| Scheduled Tribes | 82 | 71 | 102 | 92 |
Written Cut-off Marks – AAI JE ATC
July/2012 
| | | | | |
| --- | --- | --- | --- | --- |
| Category → | General | OBC | SC | ST |
| Last Qualified Candidate Marks → | 64 | 60 | 57 | 54 |
April/2015 
| | | | | |
| --- | --- | --- | --- | --- |
| Category | First Qualified Candidate | Last Qualified Candidate | First Qualified Candidate | Last Qualified Candidate |
| | Written Marks | Written Marks | Final Marks | Final Marks |
| Unreserved/General | 92 | 78 | 116 | 102 |
| Other Backward Class | 90 | 74 | 112 | 99 |
| Scheduled Caste | 77 | 69 | 103 | 94 |
| Scheduled Tribes | 80 | 65 | 95 | 89 |
AAI JE (Electronics) & JE ATC Cut-off marks April/2015 – Official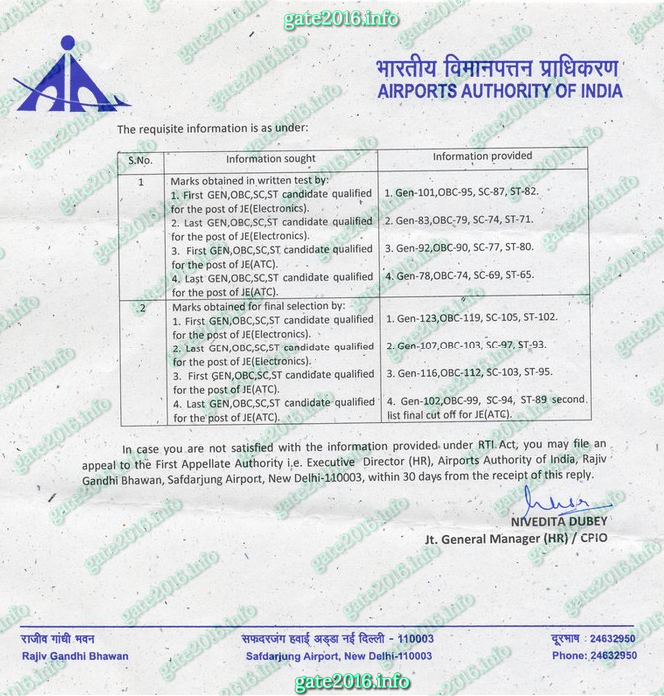 December/2015
| | | | | |
| --- | --- | --- | --- | --- |
| Category → | General | OBC | SC | ST |
| Last Qualified Candidate Marks → | 76.459 | 73.000 | 68.170 | 64.026 |
July/2015
| | | | | |
| --- | --- | --- | --- | --- |
| Category → | General | OBC | SC | ST |
| Last Qualified Candidate Marks → | 98.122 | 92.308 | 89.00 | 86.00 |
AAI in order to fill vacant positions at various levels conducting exams after every 2-3 months in different-different categories. In this series AAI recruiting JE ATC whose recent exam was held on 24 April 2016 against Advt. no. 07/2015. For JE ATC post candidates of all branches of Bachelor's Degree in Engineering / Technology in any discipline OR B.Sc. with Physics & Mathematics are allowed.
While you check AAI ATC exam paper pattern it is quite different from all other type of Technical it contain Physics & Mathematics subject as major subject in its technical part. This is the main reason why candidates of B.Sc. with Physics & Mathematics are allowed. So candidates with engineering / technology background must prepare these two subjects quite well if they really wanted to get selected for AAI JE ATC post.
How to Check AAI JE ATC Cut-off 2022?
Step 1: Go to the test authorities' official website.
Step 2: On the Home Page, click the Recruitment option.
Step 3: Look for the Air Traffic Control result link.
Step 4: The cut-off marks table should be presented below the merit list.
Step 5: Download the document to your device for further use.
What are the factors that determine AAI JE ATC Cut-off 2022?
There are a number of factors through which the cutoff for AAI JE is determined. We have given the following factors that play an important role to determine the AAI JE Cut-off 2022.
The difficulty level of the exam.
Number of vacancies.
Number of candidates appeared.
Previous year cutoff marks.
AAI JE ATC Guidance
AAI JE ATC Cut-off Marks FAQs
Is AAI JE ATC categorical cut off marks different?
Yes, AAI JE ATC categorical cut off marks are different.
From where can I check the official AAI JE ATC cut-off marks?
The cut-off marks official data will be released on the official website of AAI.
Related Links
Click below given links to get further information.