"Are you searching best gate 2022 exam reference books ?
Then you are at the right place. Just check below."
GATE


REFERENCE BOOKS


[2022-2023]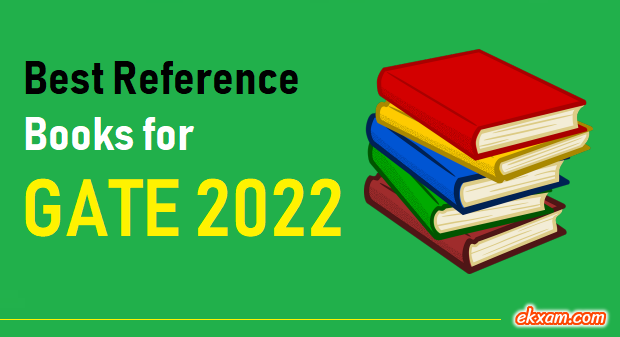 GATE 2022 Books – Graduate Aptitude Test in Engineering (GATE) is an all India examination. Which is conducted every year by Indian Institute of Science (IISc) and seven Indian Institutes of Technology (IITs at Bombay, Delhi, Guwahati, Kanpur, Kharagpur, Madras and Roorkee). This exam is conducted for undergraduate students of engineering and science of various fields.
Graduate Aptitude Test in Engineering (GATE) examination is conducted every year. This exam is mainly for getting admission into higher all India ranking colleges of engineering and technology like IISc, IITs, NITs.
Nearly 10 lakh candidates who filled the application form of GATE. Most probably almost same number of candidates will fill the form for this year. For more details about GATE year wise candidate & paper analysis please follow below link.
So this exam is one of the most reputed and competitive examination. Every year lakhs of candidates write this exam but very few 1 out of 600 make it to get admission into IISc or any one of seven IITs. Books that candidates read at their undergraduate level are of the great importance for getting good rank in GATE exam because GATE syllabus is based on syllabus of B. E. or B. Tech. at their undergraduate level.
Name of Sections
Name of Publishers
General Aptitude
McGraw Hill Education
Engineering Mathematics
Subject Exam Guides

Made Easy Publications
ACE Engineering Publications
G. K. Publications
Pearson Education

Subject Solved Papers

Made Easy Publications
ACE Engineering Publications
G. K. Publications
Here we are providing the list of books which will help you in your preparation for each branch individually. Here in the below table you may choose any subject as per your choice to which you want to attend GATE paper in 2022. You may visit the respective link by clicking the icon against each branch.
There are so many reference books for GATE examination. How do I study all of them ?
Here we are proving you two kind of solutions for this query :
(1) You must select the best books such as those given in this article.
(2) You can do group study so that you all can understand the concepts better.
Should I take proper coaching for GATE examination or self-study with adequate best books will be sufficient ?
It depends upon your ability and clarity of concepts of GATE Syllabus. If you feel the requirement of joining coaching, you can join and if you believe that you can do well on your own, go ahead and follow a proper timetable and collect best GATE Preparation books. Just start your GATE examination preparation as soon as possible.
What type of GATE reference books should I refer to study for GATE examination ?
You must refer the books that have been published by standard publications such as Tata McGraw-Hill (TMH), Prentice-Hall of India (PHI), Wiley etc.
Do the quantity of GATE Preparation books matter ?
No, the quantity of books does not matters but quality of books matters a lot. Students should focus on quality education. Always refer good and standard books only.
Apart from best books for GATE , which material is good for GATE examination preparation ?
Students who are doing self-study, refer standard preparation books , online resources such as youtube videos, apps for their GATE examination preparation. If students have joined coaching institutes, then prepare class notes and follow these notes properly. To enhance your competitive ability, practice online mcqs, quizzes, mock tests and solve previous year GATE exam question papers.
How many GATE Preparation books should I refer for each subject ?
Two or three books are sufficient, depending on the subject. Start with one book and if you have any doubts, then move on to some other books. We will here suggest you to follow one standard book at a time which cover almost 80-90% syllabus of GATE examination for a particular subject.
Which book should I refer to study Mathematics for GATE exam preparation ?
You can refer Higher Engineering Mathematics by Dr. B. S. Grewal, Advance Engineering Mathematics by Erwin Kreyszig and Advanced Engineering Mathematics by Dr. H. K. Dass. These are some of the famous and appropriate GATE Preparation books for Mathematics.
GATE (Reasoning & Aptitude & Maths) Books
Click below given links to get further information.